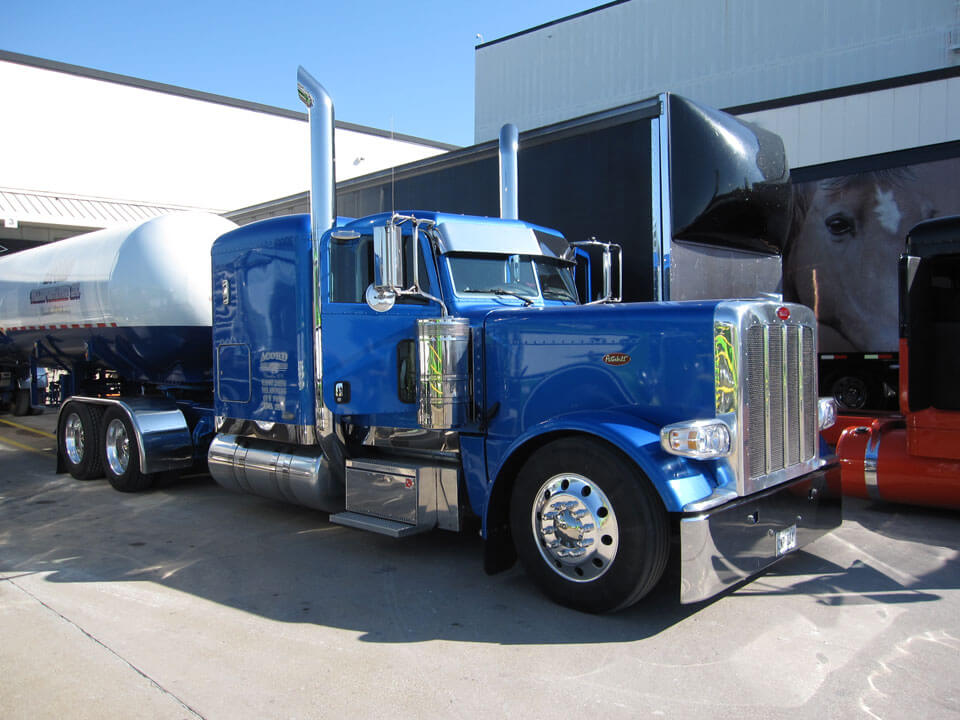 We are going to talk about the history of Peterbilt trucks. It all started as a necessity, then an idea and then an action that became one of the largest truck manufacturers in the world. If you want to know how this happened, keep reading.
Who was T.A. Peterman?
Theodore Alfred Peterman was a plywood manufacturer and lumberman in Tacoma, Washington. At the time he was looking for a better way to move his felled logs to the lumber mills more efficiently and productively.
He started by purchasing surplus military trucks and modifying them for his needs. Then in 1939, he completed the purchase of the Oakland division of Fageol Truck and Motor Company from Sterling Motor Company, who purchased the majority of the assets from Waukesha Motor Co. and the Central Bank of Oakland.
Peterman built two 'chain-driven' trucks for logging purposes, but they did not work for this purpose. These trucks and engines did work very well for normal hauling and freight transportation. The company continued building trucks that were built and sold very well. The company later became known as Peterbilt.
How did Peterbilt get its name
After acquiring Fageol Truck & Motor Company, Peterman set out to build new trucks for the logging industry and wanted a new name for the truck manufacturing company.
According to information out there, the name of 'Peterbilt' derived from a line of wood doors that was produced one of Peterman's lumber facilities. Plywood was used very liberally on the interior of early "Petes", which was another link with Peterman's lumber operations.
Peterbilt manufactured 14 trucks in their first year in business.
What was the first Peterbilt ever made?
The oldest Peterbilt trucks were the Model 260 and Model 334. Both of these were known for their all-steel cab.
Model 334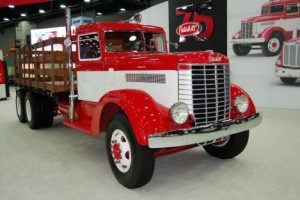 Model 260 fun facts
Model 260s were chain-drive single-drive-axle trucks.
The base-powered unit gasoline weighed 32,000 pounds.
The diesel-powered unit weighed 37,000 pounds.
Model 260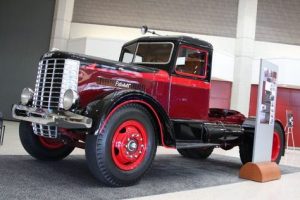 Model 334 fun facts
Model 334s were dual drive
It weighed up to 44,000 pounds.
Had provided with egg-crate grille
Here is a brief history of Peterbilt and some of their contributions to heavy-duty truck parts:
In 1939 Peterbilt started selling trucks to the public. Peterman sent his engineers out to speak with the truckers themselves to see what their needs and expectations were for their truck.
He didn't just think about engine performance, but all aspects of heavy-duty truck parts from the grill to hoods and overall cab design. This attention to the truckers paid off as the overall design of the truck was a hit and set the stage for the distinctive styling that Peterbilt would become known for.
The Goal
Dedication to quality was also very important to Mr. Peterman. As Ford was producing hundreds of trucks a day with its assembly line and manufacturing plant, Peterman set a goal of 100 trucks a year. In 1939, they built a total of 14 trucks (partial year) and in 1940 the company built 82 trucks.
1945 – Peterbilt pioneered the use of aluminum to reduce cab & chassis weight, which increased payload capacity. In 1949, the company unveiled a practical cab-over-engine model in anticipation of highway length limits.
1958 – Peterbilt was purchased by Pacific Car & Foundry who primarily manufactured railroad freight cars. Pacific Car had purchased Kenworth in 1944 and was already a competitor in the heavy-duty truck market and replacement parts. The Pacific Car & Foundry later changed its name to PACCAR in 1972
1959 – Peterbilt introduced the 90-degree tilt hood for easier service, then in 1965 built the 1st all-aluminum tilt hood for conventional models.
1960 – Peterbilt opened a new manufacturing plant in Newark, CA. 800 trucks were produced in the 1st year.
1969 – Peterbilt opens its 2nd manufacturing plant in Nashville, TN. They closed this facility down 40 years later in 2009
1970's – Peterbilt began manufacturing trucks for refuse.
1980 – Peterbilt opened a then state-of-the-art manufacturing facility in Denton, TX. Most of the manufacturing from the Newark plant was consolidated and moved to Denton. The Newark plant was officially closed in 1986.
1984 – Peterbilt introduced Model 349 which introduced innovations such as the rear engine power take-off and the self-steering lift axle for the construction industry.
1993 – Peterbilt moves their official headquarters and engineering from Newark, CA to Denton, TX
Jumping ahead some.
2011 – Peterbilt introduced Model 386 which is the first Smartway Designated Alternative Fuel Vehicle of the industry.
2011 – Peterbilt introduced Model 587 which set new standards of aerodynamic and operational efficiency. This was also the first in the
Trucking industry to become standard with Air Disc Brakes.
2014 – Peterbilt introduces the EPIQ Package for their Model 579 truck, which already had broken new ground in aerodynamic efficiency and fuel economy.
The EPIQ package Includes Complete Aerodynamic Package, a PACCAR MX-13 Engine, Fuller Advantage Automated Transmission, Single Horizontal Exhaust, SmarTire Tire Pressure Monitoring System, Low Rolling Resistance Tires and Optimizing Spec'ing Software.
Darrin Siver, Peterbilt general manager, and PACCAR vice president has been quoted saying "Peterbilt's products are among the most technologically advanced and we continue to invest and develop innovations that boost productivity, durability, and Safety."
As Peterbilt continues to push boundary edges, it will be interesting to see what the next 75 years will bring as technologies continue to advance.