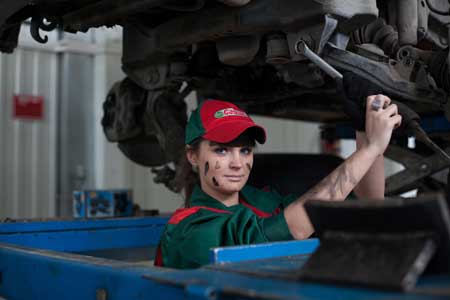 Let's say you are a new start-up company and you have a fleet of heavy duty trucks. You have some experience in the trucking industry, but feel it would be too costly to keep in-house mechanics and maintain your fleet.
Finding trained & skilled mechanics is not cheap, but the risk of hiring one trained person and hoping he can train unskilled labor is one you don't want to take.
Then maintaining your inventory of commercial truck parts for your fleet can be challenging and ending up with too much of one item and not enough of another can lead to longer downtimes for your vehicles.
So after looking at the cost and risks of an "in-house" maintenance program, you decide that you would rather outsource the repair work. How do you know which shop will be the best for your fleet needs?
Working for a company that sells commercial truck replacement parts on a wholesale level, I had never thought about it before.
Being a wholesaler, our company doesn't deal with the general public. We have referred callers to our closest customer in their area before, but had never given a thought about repair shops in general.
Not until a caller asked me if any of his choices were a repair shop as well, so I decided to do some research.
Now since I still do not have a need for a repair shop, I researched on how to go about finding the right repair shop for your needs.
Here is a list of some ideas to consider when looking for a repair shop:
Make an initial list of the repair shops in your area and begin by looking at the website, if offered.
A professional or user friendly website can be a sign the company conducts itself professionally.
Call up the companies on your list and evaluate their customer service. Are they willing to take the time to speak with you on the phone or are they rushed and trying to end the call quickly? Depending on how these calls go, you could eliminate some companies from your list.
Review the list of services provided. Some repair shops may only specialize in one area of repair work, meaning you would have to find another shop for other repairs.
Make sure the repair shop does work on your vehicle brand/application. If you have a truck with a Aftermarket Detroit S60 engine and take it to a shop who specialize in Caterpillar, you may not get the best repair work done.
What is the labor rate of the shop and hours of operation?
Ask about their technician certifications and experience.
What is the vehicle turnaround time for repairs and their service backlog look like? A shop could do quality repair work, but if understaffed, they could take longer to get your truck up & running.
Does the repair shop maintain an internal inventory of commercial truck parts, or would parts have to be ordered and shipped to them? You may have to wait a day or longer to get your truck back on the road.
Make sure the repair shop has good insurance coverage. Last thing you would need is for some sort of accident to happen, or the building burns down, and the repair shop insurance won't cover your truck.
Will the shop offer a warranty on their labor?
All of the things listed above are great, but feeling comfortable with the company is just as important. Another thing to consider, just because a company is the cheapest option, doesn't necessarily mean they are the worst option. The same thing can be said about speed as well.
Granted, you want your truck on the road as soon as you can get it there, but you want it to last for a long time as well. Quality repair work can help make that happen.